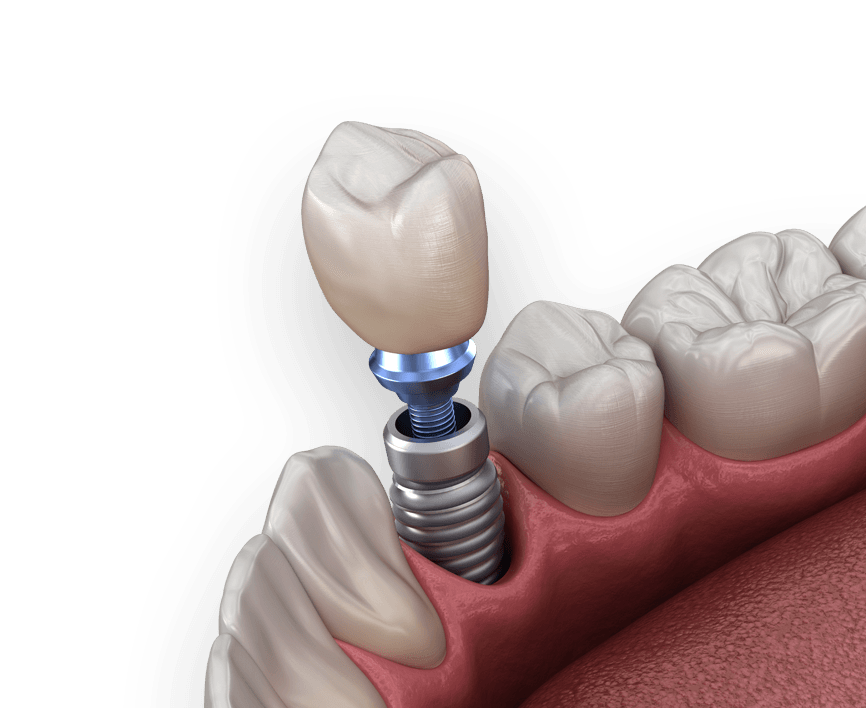 Dental Implants
Missing teeth can create problems in virtually all areas of your life, from maintaining proper nutrition to feeling confident.
At Colorado Premier Dental, we can replace missing teeth with dental implants – biocompatible posts that function just like tooth roots.
What makes dental implants the preferred method of tooth replacement at our Lakewood, CO, dentistry, serving Lakewood and Denver?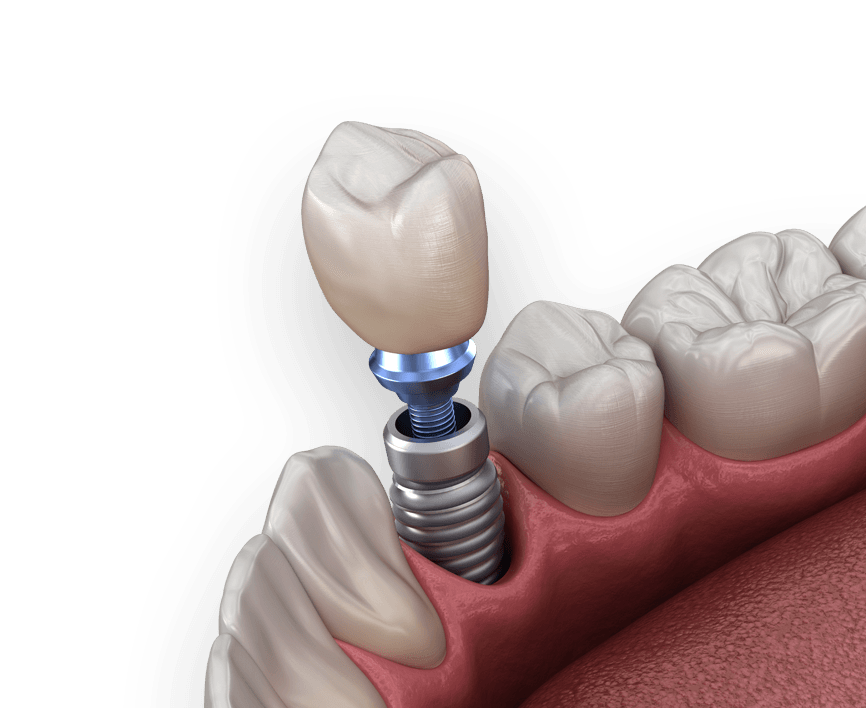 Enjoy Improved Stability and Function
with Dental Implants
Lasting Benefits
When properly placed, dental implants can provide a lifetime of stability and oral health benefits. In fact, dental implants can last upwards of 40 years with proper care.
Enhanced Oral Health
Losing teeth can have a serious impact on the health of your jaw. Dental implants are the only tooth replacement option which can slow or even halt tissue loss in the jaw.
Restored Function
In Lakewood, CO, Dr. Brian J. Polidori can place your implants and attach a custom restoration which fully restores both the function and appearance of your teeth, allowing you to feel confident about your smile. We welcome patients from throughout Lakewood and Denver.
Missing Teeth Is a
Common Problem for Adults
You Can Also Convert
Your Existing Restoration
If you previously chose a traditional method of tooth replacement such as conventional dentures, it is not too late to ask your dentist about dental implants. In many cases, we are able to convert your existing denture into a stable implant-supported restoration if your prosthesis is in good condition.
In addition to helping your denture stay firmly in place, dental implants act like tooth roots. They provide regenerative signals to your jaw bone, keeping it dense, healthy, and strong to prevent future jawbone recession.
Restore the Form and Function
of Your Smile
Dental implants act as a stable anchor for a restoration.
With the final restoration in place, function is restored and the results look completely natural.
4 Basic Requirements
for Dental Implant Candidates
Condition of Your Jaw Bone
In order to qualify for traditional, full-size titanium implants, you need to have a healthy amount of remaining bone tissue. If your bone tissue is compromised,
Dr. Polidori
can perform a
bone graft
or choose a smaller implant that doesn't require grafting.
Healthy Lifestyle
Unhealthy habits like smoking can slow down your body's ability to heal, increasing your risk of implant failure. To ensure that your implants are successful, you should stop smoking for several months before and after your surgery. Ideally, you should quit altogether.
Free of Oral Health Conditions
Prior to the surgery, you should be free of gum disease and other oral health conditions. Because our Lakewood, CO, office provides comprehensive general dentistry services, we can treat outstanding issues in-office.
Controlled Diabetes
Diabetes does not disqualify you from getting implants, but uncontrolled diabetes can increase the risk of complications and hinder the body's healing response. You should have stable, healthy glucose levels to ensure the success of your surgery.
Our Lakewood Dental Office
Offers Sedation
Many patients at our Lakewood office, serving Lakewood and other areas around Denver, are able to undergo the procedure with minimal discomfort after receiving only local anesthesia.
But if you are anxious about your upcoming treatment, you can also choose from our other sedation options:
Nitrous oxide
Oral sedation
Intravenous (IV) sedation
Our team can help you decide which option is best for your needs during a consultation.
Advanced Technology
in a Comfortable, Patient-Friendly Setting
Our office is one of the only practices in the Lakewood and Denver areas that is equipped with its own 3-D computed tomography (CT) scanner. We use this scanner to evaluate your candidacy for dental implants and carefully plan your treatment. Because this technology produces high-resolution images of your bone tissue and biostructures, we can precisely determine the location where your dental implants will be most successful.
We also try to maintain a comfortable atmosphere by offering snacks, juices, television entertainment, and a spacious courtyard for children to play in.
Best dentist I have ever been to. Dr. Polidori is very kind, gentle, and helpful. He and his team have always got me in if I ever have a problem. Normally I hate going to the dentist but they are all so kind and careful that I actually don't mind the work they do on my teeth. The staff are equally great as Dr. Polidori. I highly suggest Colorado Premier Dental. I never want to go to another dentist again!

Audrey M.
3 Types of Implants
Offered by Our Dentist
At Colorado Premier Dental, in Lakewood, CO, we proudly offer several types of dental implants to meet your unique needs. In order to create a personalized treatment plan, Dr. Polidori will recommend the implants that best suit your health condition and aesthetic goals. Options include:
Preparing Your Smile
for Implant Dentistry
Thanks to his extensive experience in oral surgery, Dr. Polidori can perform a number of preparatory procedures, if needed, before placing your implants.
Bone Grafting
If you have suffered jawbone degeneration, a common side effect of tooth loss, and would like to receive traditional implants, he may recommend bone grafting. During surgery, he will make a tiny incision in your gums and build up the treatment area using your own bone, donor bone, or a synthetic substitute. Over the next several months, your natural bone will integrate with the new material and create a strong, stable foundation for your implant posts.
Tori Removal
In some cases, Dr. Polidori may recommend tori removal. Tori are small, bony growths that develop on your hard palate. Although they are harmless, tori can get in the way of dental restorations. Additionally, if they grow, they can cause discomfort. Tori removal is quick and involves little to no discomfort. In most cases, Dr. Polidori can perform the procedure using only local anesthesia.
A Typical
Treatment Timeline
Although the exact process of receiving dental implants is different from patient to patient, you can typically expect several steps during your office visits:
We offer sedation for your complete comfort.
More Information
about Dental Implants
Dental implants are the latest and most advanced way to replace missing teeth. Dr. Polidori will place these small titanium posts in your jawbone during a minor surgical procedure. After your bone has healed, implants can support a lifelike restoration. A single post can secure one crown, while multiple dental implants can support a bridge or full denture.
At Colorado Premier Dental, in Lakewood, CO, we offer all types of dental implant procedures, each with their own set of benefits, including advanced preparatory surgery. We also offer several kinds of implants, and we will help you choose the right type for your needs. Contact our office today to learn more about implants and to find out if these restorations are right for you.
Investing in Your Smile
Provides a Wealth of Benefits
The traditional dental treatment to replace missing teeth is bridges or dentures. As an affordable option, they are an enticing choice. Unfortunately, traditional bridges and dentures cannot stop jawbone atrophy. The jaw loses bone tissue after a tooth is lost, which is why traditional dentures require frequent relining and adjustments. The cost of these adjustments can add up over time.
Dental implants stop jawbone atrophy, helping your jaw keep its shape and size. They also keep your restoration in place at all times, with no slipping or shifting. This results in a supremely functional restoration that requires significantly fewer adjustments.
To learn more about how our Lakewood, CO, dentistry can restore your smile, contact us online or call (303) 935-3465 to schedule a consultation today.
Understanding the Benefits
of Dental Implants
If you are missing teeth, you are at an increased risk for a number of associated oral health issues, from gapped teeth to jawbone atrophy. For qualifying patients, dental implants can counter these effects to protect your smile and improve your overall quality of life. At Colorado Premier Dental in Lakewood, CO, serving communities throughout Denver, Dr. Polidori can place and restore dental implants as part of a single, convenient treatment plan. To help you decide if this method is right for your needs, we invite you to schedule a consultation to learn more about the benefits of dental implants.
Comfortable and Aesthetic
Because implant-supported restorations replace the entire tooth, from root to chewing surface, they are the next best option to having a full set of natural teeth. When placed by an experienced implant dentist, implant-supported restorations look, fit, and function like natural teeth.
As implants are fixed to the jaw, your restoration will stay put without shifting. In contrast, traditional dentures often slip out of place meals and conversation. With implants, you can feel confident about your normal routine without worrying about how your restoration looks or fits. For most patients, their implant-supported restoration blends seamlessly into their smile for improved comfort and appearance.
Improved Oral Health
When tooth loss is left untreated, more extensive health problems can develop. One of the most common side effects is jawbone deterioration. Because the tooth roots play an important role in maintaining the density of your jawbone, their loss may lead to resources getting rerouted to other parts of the body. Over time, the jawbone atrophies, threatening the stability of surrounding teeth.
We offer a variety of implant types, including mini implants, and can even perform the All-on-4® technique for qualifying patients.
While more affordable, traditional dentures and bridges do not address the loss of tooth roots and the associated bone degeneration. Implant-supported restorations are unique in their ability to replace the root as well as the chewing surfaces of a tooth. In fact, dental implants can prevent further bone loss and contribute to the overall stability of your jaw for improved oral health.
In the days following your surgery, it is normal to experience minor bleeding, swelling, and discomfort. You will receive personalized instructions on how to handle side effects, which may include:
Swelling: During the first 48 hours, apply ice packs against your cheeks to help reduce swelling, discomfort, and bruising. Sleeping with your head elevated can also ease swelling.
Pain: Our dentists will probably prescribe pain medication. In some cases, we may recommend taking over-the-counter pain relievers in combination with prescription meds.
Bleeding: We will provide gauze to stop the bleeding in your gums. If you notice excessive bleeding, contact our office immediately.
To help fight infection, our dentist may prescribe antibiotics and antiseptic mouthwash. After surgery, you should be able to return to nonstrenuous work after two to three days. Avoid strenuous physical activity until you are cleared by your doctor.
Proper oral hygiene is incredibly important, but you should proceed carefully. Slowly brush the area around the placement sites to avoid irritating your incisions. Use a soft-bristled toothbrush. It is important to keep your mouth clean and free from food particles that could become trapped in your gums. Rinse your mouth out thoroughly after each meal. Take care to let the water fall out of your mouth rather than forcefully spitting.
Our dentist will prescribe a soft food diet for the first few days. Once you are healed, you will be able to enjoy your favorite foods and a varied diet once again.
Sutures will be removed at our Lakewood, CO, dentistry one to two weeks after surgery.